There's a lot of responsibility that comes with being a commercial property owner. Whether you own an apartment complex, office building, or retail store, there will come a time when you need service for your commercial roof. Most commercial buildings feature flat roofs, which have unique installation considerations.
Instead of trying to chase down scattered information about flat roofs, we've gathered everything you need to know about materials, price points, and installation methods in this ultimate guide. By the end of this article, you'll feel confident to schedule the flat roof installation that your commercial building so desperately needs.
Flat Roof Cost + Material Types
Typically, flat roof replacement cost is $4 to $13 per square foot. The cost of a basic installation includes the removal of a single layer of old roofing and any disposal fees. Additional costs can include:
Ventilation: Additional $300 to $600
Roof drains: Additional $40 to $100 apiece
Extra underlayment: Additional $70 to $2,000
The total cost of replacing a 1,000 square foot commercial flat roof ranges between $3,100 and $10,000, with the average cost falling in the $6,500 range. Keep in mind that larger commercial buildings with higher square footage will increase the final cost of a commercial roof. A new flat roof on a 10,000 square foot building could cost between $40,000 and $130,000, depending on the material type.
Flat roof materials include:
Fiberglass GRP
Fiberglass flat roofs are also called glass reinforced polyester (GRP). GRP roofs are one of the most popular flat roofing materials across the country. The strong, composite material is formed by strengthening plastic with fine glass fibers.
Installation of fiberglass roofs is simple and safe, and the lifespan is pretty impressive.
Cost: $4 to $6 per square foot
Lifespan: 25 to 50 years
Benefits:
Flexible for green roofs or complicated roof shapes
Easy to repair
Durable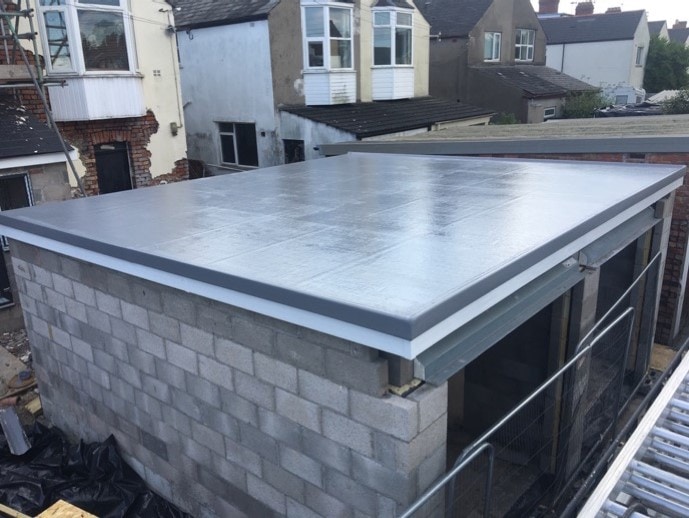 EPDM Rubber
Ethylene propylene diene monomer (say that three times fast), otherwise called EPDM rubber roofing, is very popular for commercial buildings. Sometimes, you'll hear this material referred to as simply "EPDM" or "rubber roofing." EPDM can come in either black or white, but the white material can cost up to 30% more. Both colors have the same longevity.
Cost: $5 to $13 per square foot
Lifespan: 40 to 50 years
Benefits:
Easy to maintain
Resilient and flexible
Energy-efficient
Environmentally-friendly
TPO
TPO flat roofing stands for "thermoplastic polyolefin." TPO is a single-ply roofing material, manufactured in sheets that are 10, 12, or 20 feet wide. These single-ply sheets are conveniently rolled up and taken to the commercial property for installation. TPO naturally reflects UV rays from the sun.
Cost: $3 to $7 per square foot
Lifespan: 15 to 30 years
Benefits:
Fire resistant
Plenty of insulation options to choose from
Reflects away heat, saving money on energy bills
Built-Up Tar
A built-up roof (BUR) uses gravel and tar to form a waterproof layer over the covering. This flat roof material is simple to repair and maintain. Built-up roofing is commonly used for residential commercial buildings like apartments and condos. Although it's popular, it can be a bit more expensive than other flat roof materials.
Cost: $4 to $10 per square foot
Lifespan: 15 to 30 years
Benefits:
Fire resistant
Easy repairs
Durable
Protects from inclement weather and UV rays
Modified Bitumen
Modified bitumen was created in the early 1960s. It took the standards from built-up roofing and added layers for durability and strength. Roofing contractors will typically use hot asphalt or cold adhesives to install a modified bitumen flat roof. The flexibility of this material really shines in low temperatures and winter.
Cost: $4 to $8 per square foot
Lifespan: 15 to 30 years
Benefits:
Low maintenance
Great elasticity and flexibility in low temperatures
Easy to install
Affordable
Great durability
Installation Process for Flat Roofs
So you've got a general idea of different flat roof materials and their costs, but what can you expect from the installation process? How long does it take to install a flat roof? Well, working with a skilled commercial roofing contractor will make all the difference for a fast and effective installation process.
4 Step Installation Process
At GenSun Roofing, we are committed to getting commercial roofing projects done right the first time. You should never have to wait on unreliable communication or shady pricing structures when it's time to replace or repair your commercial roof. Our team has implemented a four-step process so that you know exactly what to expect when it's time for your flat roof installation.
Step 1
At the first signs of an aging flat roof, reach out to us right away. You will schedule a free inspection and estimate, during which we will use innovative technology to document your roof's condition and any damage. Then, we will offer a detailed explanation of what we found and offer our recommendations for repairs or replacement. You will receive a detailed quote for the work we recommend.
Step 2
After you review our findings, estimate, and recommendations, and officially decide to hire us for the project, we will send over an agreement that details the full scope of the work that will be done. We will work with you to schedule a convenient time to begin the installation process. We always maintain close communication and let you know right away if work needs to be rescheduled due to inclement weather.
Step 3
The job site supervisor will be your point of contact on installation day. A skilled, professionally-trained team of flat roof installers will be on-site on time to repair or replace your roof. For smaller commercial buildings, installation can be completed in as little as 5 days. In terms of larger buildings, flat roof installation can take up to 2 to 3 weeks.
We keep a digital photo record of every step of the installation process. Once the work is done, the site supervisor will complete an in-depth final inspection and clean up all debris. Our clean-up process is so reliable that you won't even know we were there!
Step 4
It's our goal that every customer is completely satisfied with their new commercial roof, so we strive to always get our projects done right the first time. If for any reason you're unhappy with the result, that means we're unhappy, too. Always feel free to reach out, and we'll be sure to make the situation right.
Pros and Cons of Flat Roofs
If you're considering building a brand new commercial building, you're likely wondering if you should go for a flat or sloped roof. There are advantages and disadvantages to flat roofs, so, hopefully, this list helps inform you if a flat roof is the best decision for your business.
Pros of Flat Roofs
Increased flexibility: Flat roofs offer the potential for adding air conditioning units on the roof rather than on the ground, installing a green roof, or building a finished terrace for residents or employees to hang out on the rooftop.
Lower utility bills: Many flat roofing materials reflect UV rays, keeping the building cooler. It is also very easy to install solar panels on flat roofs, meaning you can reap additional benefits of renewable solar energy.
Simple installation: Flat roofs are fast and easy to install, so you can get back to regular business operations quickly. Flat roofs are also safer for contractors since there isn't a slope they have to balance on.
Cons of Flat Roofs
Not ideal for very large buildings: The larger the flat roof, the more unstable it can become. Typically, flat roofs are just fine for the majority of commercial buildings, but very large buildings may require additional measures. These measures may look like changing the weight distribution on the building's interior to improve stability.
Limited lifespan: While some residential roofing materials can last between 50 and 100 years, most flat roofing materials last a maximum of about 30 years. Most commonly, replacements are needed after about 15 years. However, the low cost of flat roofs makes more frequent replacements accessible.
Complex water drainage: To avoid pooling water on flat roofs, your roofing contractor will need to install a high-performing drainage system.
Shrinking membrane: Some flat roof materials may experience shrinkage. Some membranes shrink when exposed to a lot of UV radiation. If the membrane shrinks, it makes hail more of a hazard for your building.
Choose the Most Reliable Flat Roof Installation Team
There's a lot to consider when it comes time for a commercial flat roof replacement. It can feel intimidating trying to choose the best material for your budget. Thankfully, the highly-trained team at GenSun Roofing knows what types of materials will be best for your budget, climate, and the size of your building.
Get the most out of your commercial flat roof and trust the team that gets the project done right the first time.